A trip to Greenland
27. 06. 2018
A trip to the land of cruising icebergs and vast wilderness. A report by Nicki Antognini.
Greenland was very different than I had ever imagined — not that I had spent much time thinking about the cold north before. It was as beautiful as I might have expected, but it offered even more spectacular surprises.
If you are a lover of peaceful landscapes and unique experiences, this story is for you. So hang on and read through our adventure above the polar circle.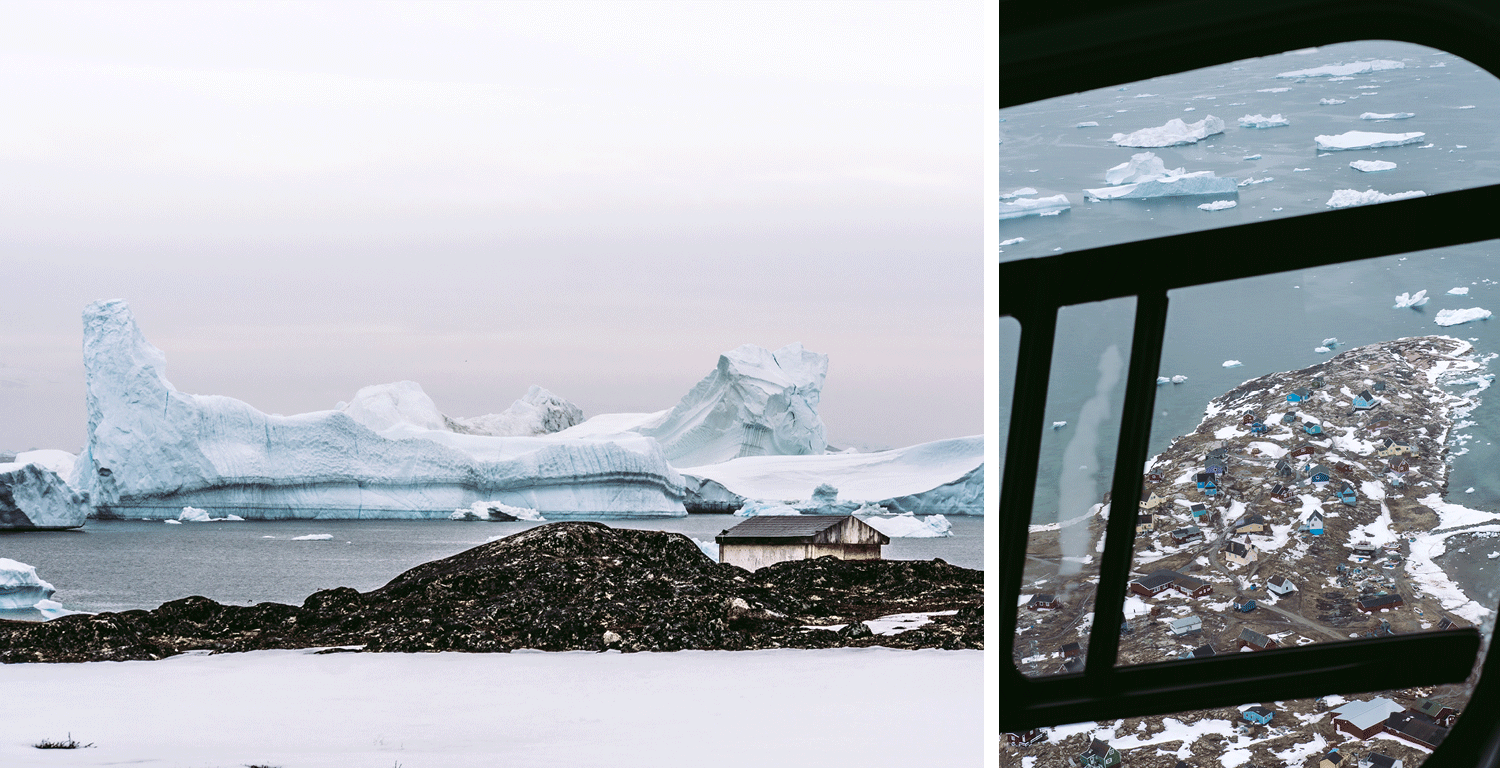 A moving landscape where ice, earth and water gather to offer a spectacular picture. ©Nicki Antognini
The arrival
Getting to Greenland is an experience by itself, as the only way to fly there is from Iceland or Denmark. My colleagues and I took our first plane from Zurich on a Sunday evening and spent a night in Copenhagen, to then fly the morning after in the direction of the north. The flight was smooth and quick (just four hours) and when I could finally see the land, I was surprised at just how little green there was. In fact, the name of 'Greenland' had been given by some murderous Vikings back in the day, in order to encourage people to go there and settle the white lands. This is what you get when you allow a killer dictator to play the travel agent.
Anyway, as we are neither killers or dictators, my team and I flew to the island personally to experience this unique adventure and make sure this would be a memorable time to share with our friends and customers.
The second flight by propeller plane took us to the little (yet second largest) town of the island (yes, Greenland is considered only as an island, no matter how big it looks on Google Maps). Ilulissat has a welcoming vibe, with colorful houses built over massive rocks. The town is situated right next to where the famous glacier of Jakobshavn breaks into the ocean. With this mother of big icebergs, the fjord offers every morning a different and spectacular landscape. I say morning, but at that time of the year, the sun was shining all night long, making it a challenge to feel the heaviness of the evening which would encourage us to sleep.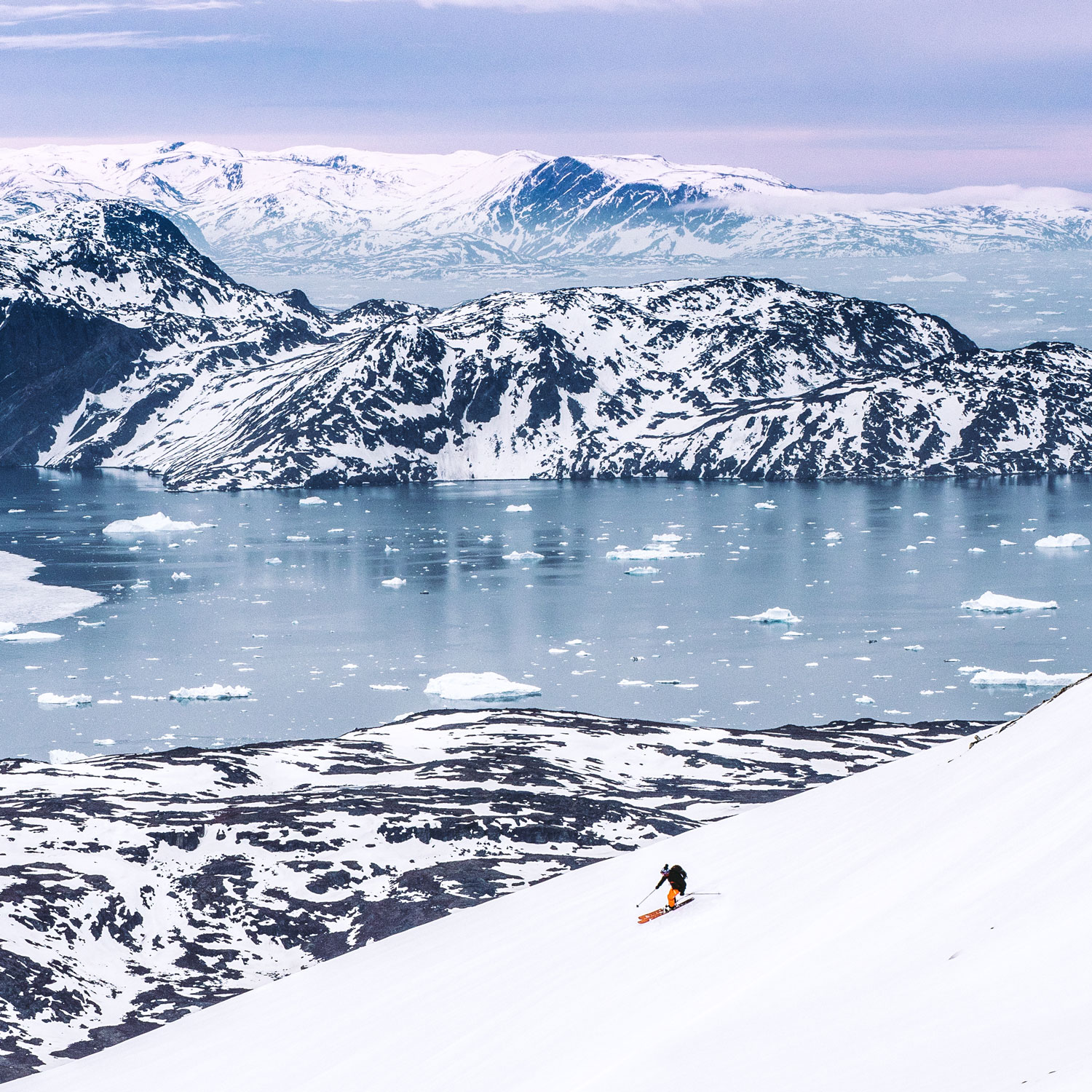 Heaven on earth! ©Nicki Antognini
Heliskiing above the Arctic Circle
Our first trip by helicopter to the mountains was a real success. Our pilot found many comfortable spots to drop us, leaving us alone in the middle of our wide, white paradise. We were alone, riding between the rocks with a stunning view over the ocean. That day we experienced varied shapes of mountains and faces to assure us there is terrain appropriate for every rider's level.
The next day we were lucky to ride on the massive Disko Island, where we found lines offering the most beautiful view we all had ever experienced. We flew over the glaciers, the fjords, and went to visit a small village on the island. There, I was amused by the black sand beach covered by lost icebergs, and played for a while on the icy rocks before heading back to Ilulissat.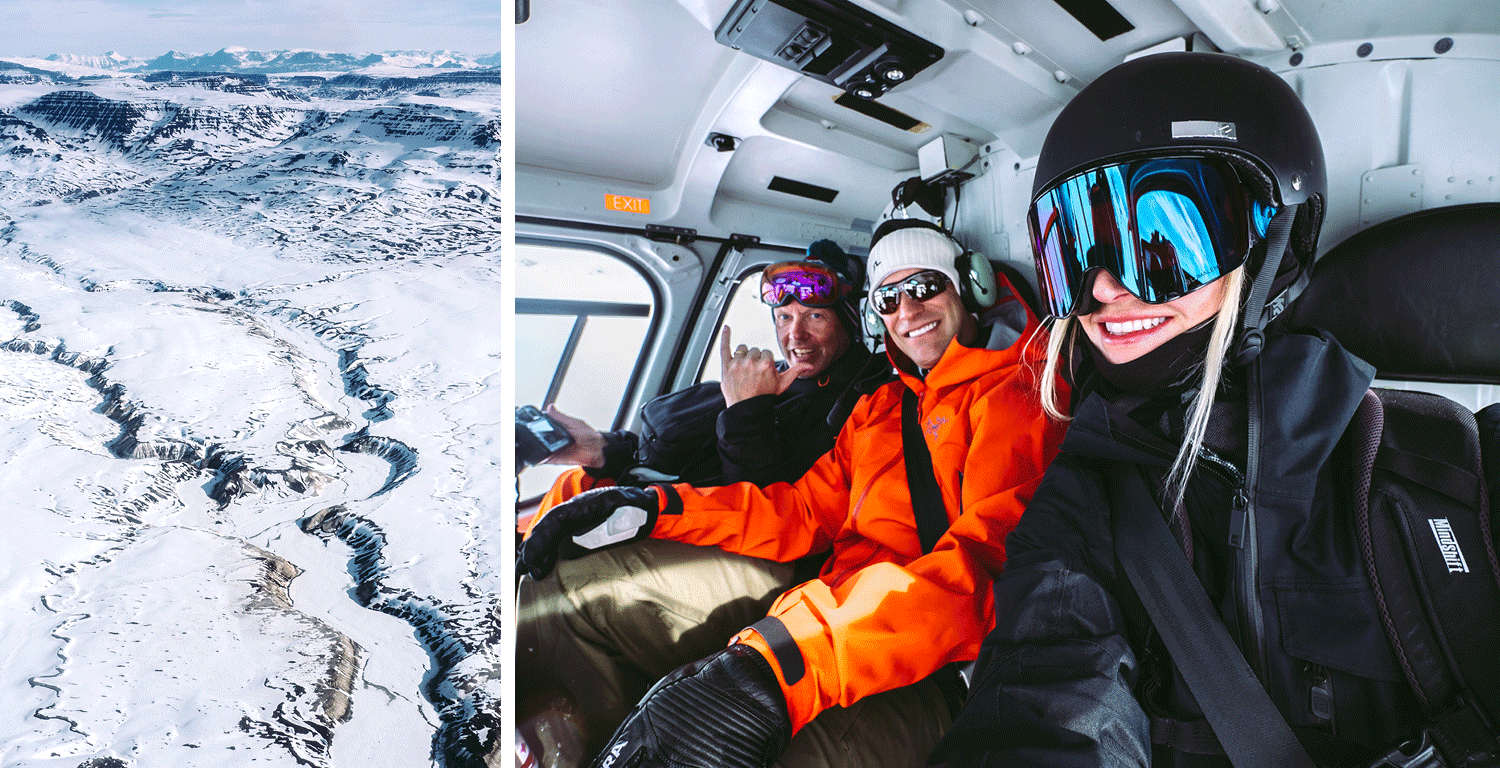 Disko island and the Travelhouse crew. ©Nicki Antognini
What else?
Our last day started with a trip by boat to the icebergs. Imagine yourself passing next to a huge, floating chunk of ice, watching the perfect and smooth shapes, feeling the cold breeze and observing the birds flying like experienced pilots between the sharp edges. These are moments when you feel grateful to be present.
Some other great local culture we witnessed is the heneuite dance of love and fertility. This might be a scary and uncomfortable experience for some, but for others it's a funny, emotional dance where interaction between the audience and the dancer is key. If you're not much into human contact, no worries, there are still the dogs waiting for you to take them for a run. Dogsledding is very popular during the winter seasons for fishing. But be aware, these are working animals and you might be left with only one hand if you try to force your love for animals on these wild dogs.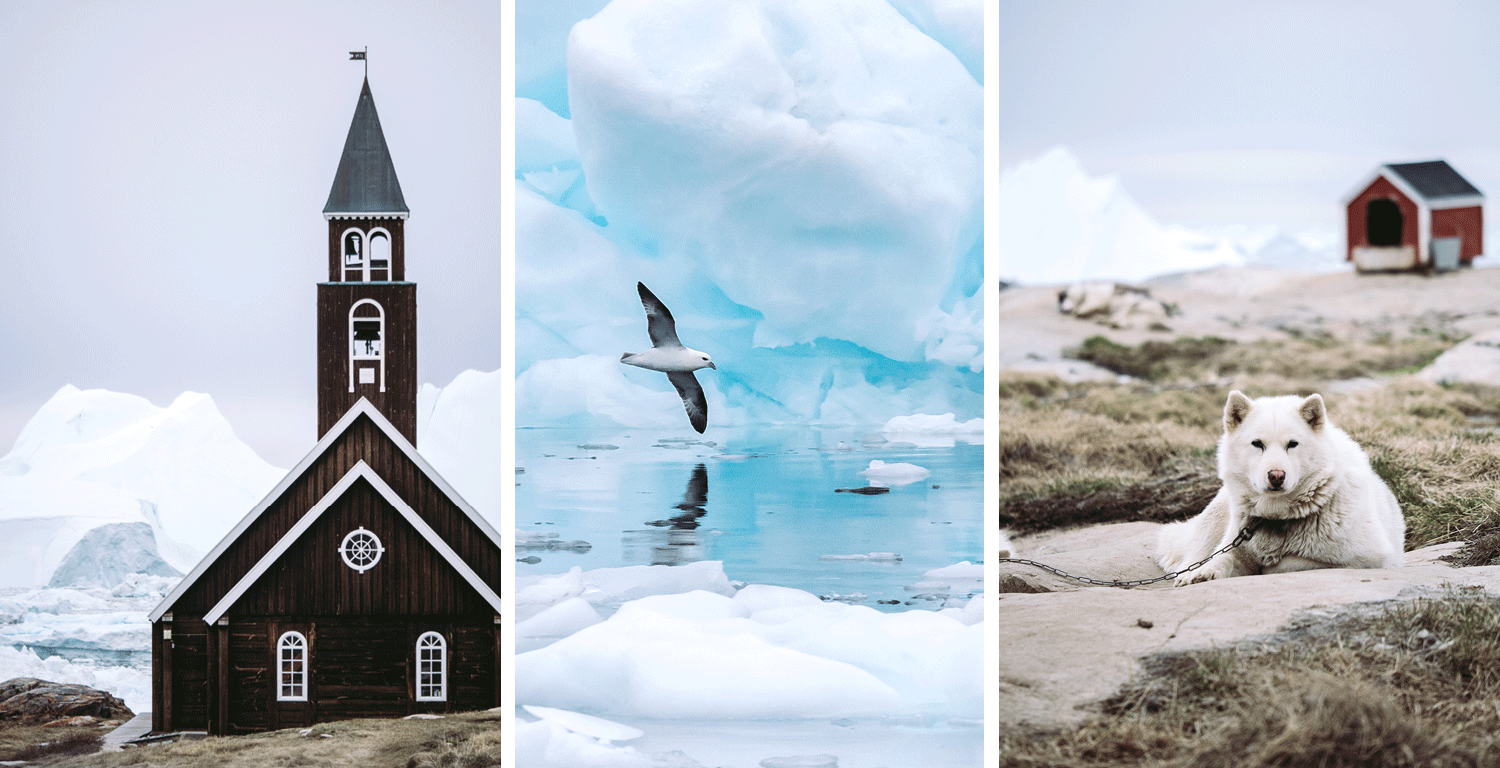 Wild and captive. ©Nicki Antognini
Why we will come back
Overall this was an unforgettable experience and I kept being amazed by the calm feeling that was mirrored from this extraordinary and powerful nature that surrounded us. Our hotel was very welcoming and comfortable, offering with every meal some local dishes combined with fine cuisine. The helicopter adventure was as smooth as it was exhilarating.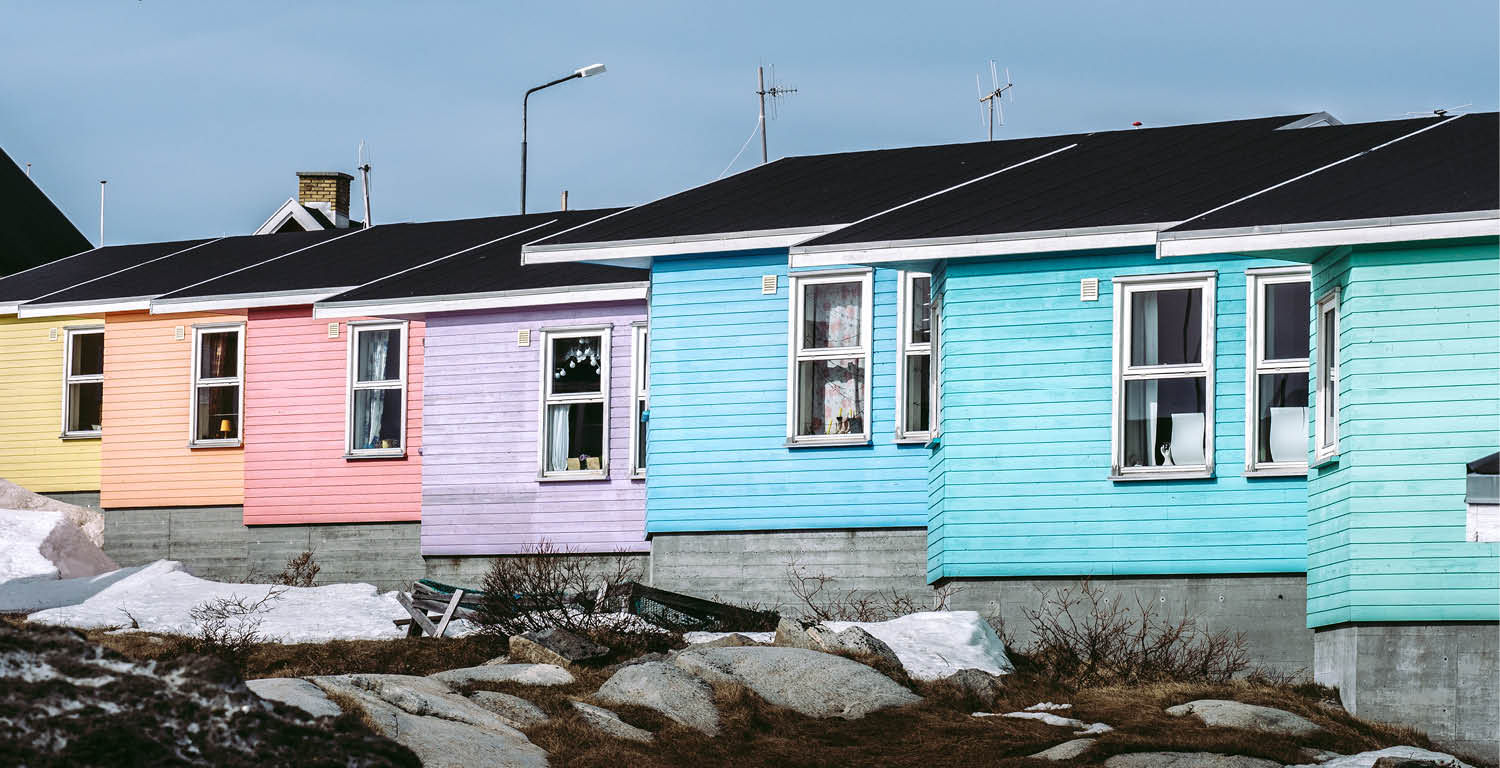 Colors are key in a large and powerful nature. ©Nicki Antognini